HTTP header "x-zapier-jobs"
Thats' great. Zapier advertises their recruiting by HTTP headers within webhooks: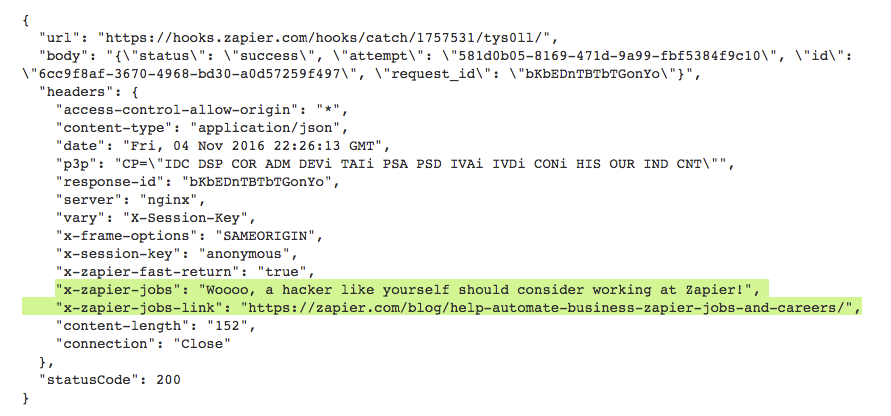 "x-zapier-jobs": "Woooo, a hacker like yourself should consider working at Zapier!"
"x-zapier-jobs-link": "https://zapier.com/blog/help-automate-business-zapier-jobs-and-careers/"

Google Analytics without Cookies
I haven't heard about this before, but it is possible by default to use Google Analytics without cookies. Well, Google does not recommend this, but it is working just fine.
To make it work, some issues have to be solved:
deactivate the cookie storage
implement an alternative for the user id
read more
BrowserStack screenshot service uses emulators
In my personal roadmap on automated tests integrated in a countious deployment strategy, my first phase was setting up screenshot regression tests. Within this phase I wanted to extend the tests from a simple setting at GhostInspector to cross device/browser tests. So I've got a subscription at BrowserStack with the aim to trigger the screenshot API an generate all browser screenshots automatically.
But on this way I recognizes 1) a lot of timeouts, 2) different browser display behaviours than on real devices, and 3) stange effects with backgrounds and fixed/sticky elements on longer pages. The first issue makes automation impossible, because you cannot trust on reliability. The second issue made the test results not usable - if the screenshot on android 4.4 has no main menu, a alarm rings in the head of a tester, but with not using emulators, everything is fine.
read more
Jekyll as frontend development tool
I am used to enforce a strict separation of frontend and backend development in web projects. Major reason is the amount of effort which is needed for quality assurance for frontends and the risks of changing frontend details while implementing backend logic. So with this separation, projects got a quality gate for the frontend independent of the backend and process complexity.
As I am using Jekyll quite a time for my own website and some smaller client project, I learned to love the easiness while utilising strong features at the same time. The gracious combination of features like - a template engine for separating content from layout markup while use things like if, else, loops and more - include templates with parameters - scss built in - having static html at the end makes Jekyll quite an easy and strong tool.
So I started to use it for building static web frontends as prototype phase before going into cms or shop implementation.
read more
Next journalism?
In a meeting at Sternwald we asked who has a newspaper subscription - and there were only a few. The hypothesis is, that the format todays generation likes to consume, does not exist yet.
I thought about that: I like to read my local newspaper, because real local news are not available in the web in a proper format. Additionally I like to read (and listen) to some specialised blogs and podcasts like netzpolitik.org.
read more
TYPO3 with Nginx using RealURL and Static File Cache
While using the Docker TYPO3 Boilerplate and moving to a hoster who likes Nginx more than Apache, I gave Nginx a try for a TYPO3 installation.
So as expected nothing really failed. The only challenge was to configure Nginx for RealURL (quite easy) and Static File Cache (a little more advanced, because the given templates are not all complete).
read more
Experiences with the Docker TYPO3 Boilerplate
A classical situation: Caused by some misconfiguration on a server a friends website got down. To solve the problem in long-term we decided to move the TYPO3 installation to a specialised and managed hosting company.
But for moving the website we had to do an update of TYPO3 as well and I had the need to setup a development environment. My former setup on my local machine was gone through several OS updates and so on. And to make it even harden, we needed two different setups - one for the old system and one for the updated TYPO3 with newer PHP and MySQL versions.
So as I am using docker anyway at othe projects, this seemed the best way - even if I was afraid to waste much time for setting up a clean docker environment.
read more
Continous integration - first steps with Distelli
It's like a buzz word: Continous Integration.
All talk about countinous integration, high frequent releases and automated tests. But in regular business there is no one really doing it. At software and web development companies these practices are more a kind of vision than reality. For sure they are companies doing it and generate benefits for their business modell. But my guess is, that most who use a continious integration process have a digital business model and the DNA of the company supports a straight strategy. As software developer for non digital companies it's mostly a dream nobody likes to pay for.
As I am not a patient human and my experiences told me to know it better on my own, I set myself the goal to evaluate the technologies in depth and introduce them to my future projects as technical project manager.

For an easy start I looked out for a SaaS platform for continous integration and found Distelli as one of the well known. And they are capable of using docker builds and a pipelining approach.
read more
Copyright
All content including text, pictures, media assets and others is owned by Jan-Henrik Hempel. The copying and use of content has to be approved explicitly in written form by Jan-Henrik Hempel. Portrait photo by Ralph Bergel.
Privacy Note
The hosting of the website is done by GitHub Pages, Dropbox and CloudFlare. By accessing this website GitHub, Dropbox and CloudFlare are able to collect usage data. You can find more details here: privacy policy of GitHub Pages, privacy policy of Dropbox and privacy and security policy of CloudFlare.
Google Analytics is used for web tracking. This is used forstatistical analysis with regards to quality and quantity of usage of the website. No personal data is gathered. You can find more details on the privacy policy of Google Analytics here. To avoid tracking by Google Analytics, please use tools like Ghostery or block the tracking by activating this function from Google Analytics.
Social sharing features have been implemented with static links only. That means that no elements are retrieved from external social media platforms and no user tracking from these platforms is possible on accessing this website.